HISTORIC CANNERY DIVERS MEMORIAL PROJECT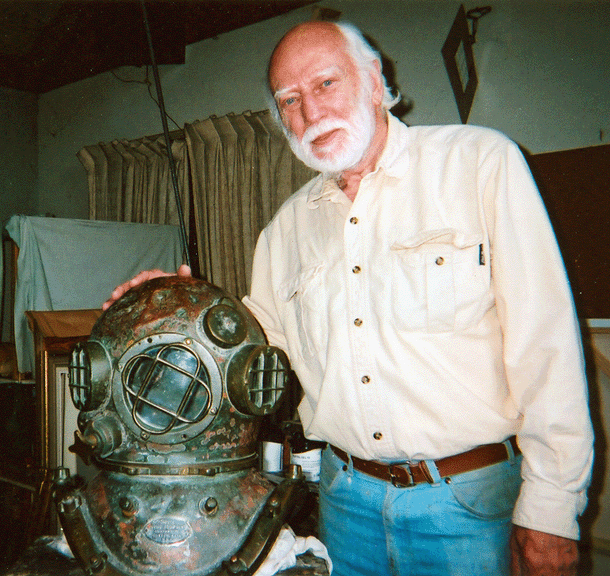 Sculptor Jesse Corsaut and the historic helmet — loaned by GLOBAL DIVERS, courtesy of
Tim Beaver — from which Monterey's master sculptor created the mold for the Divers Memorial bronze.
Tim is a Board Member of the Historical Diving Society—USA.
Photo by Scrap Lundy, Project Co-Chair.

Flashback: Jesse Corsaut as a young artist-sculptor at the Bear Flag Inn on Cannery Row.
1957 Robert Lewis photo ©2000 The History Company.




FIRST PHOTOS OF THE CANNERY DIVERS MEMORIAL DEDICATION


THE CANNERY DIVERS MEMORIAL
APRIL 18, 2008 • SAN CARLOS BEACH PARK • MONTEREY

* * *

APPROVAL PROCESS
Design concept approved by the Monterey Cultural Arts Commission, June 25th, 2007
Project announced to supportive comments by the Monterey City Council, July 16th, 2007
Unaninous approval by Monterey Parks and Recreation Commission , August 16th, 2007—7:00 PM
The project has met all requirements of the City of Monterey.

* * *

Photos of the helmet casting
being burnished

at the Monterey Sculpture Center!

(Please allow time for loading)
The "raw" bronze casting

Sculptor Jesse Corsaut and raw helmet

Burnished left front view of helmet

Burnished right front view of helmet

(compare to real helmet in photo with sculptor at top of this page)


* * *

Click below to see "Pre-Foundry Artistry"
Project Co-chair, Scrap
Lundy with helmet
and mold.
Mr. Tim Beaver, Board Member of the
Historical Diving Society—USA
and President of Global Diving & Salvage in Seattle, loaned
Global Diving & Salvage's historic Morse "hat" to be intricately replicated
in bronze for the Cannery Divers Memorial Project.
The HDS-USA plans to hold their National Convention in Monterey in April, 2008!
Lundy with sculptors
: assistant sculptor, Olga Perry, and Master Sculptor, Jesse Corsaut.
* * *

Click Here to see the project
Proposal and Donation
Information flyer.
Click here
for a pdf version
Click to see:
Sketch
of proposed Cannery Divers Memorial (by Michael Hemp)
Plan draft
for proposed Memorial piling and helmet
Image
of the proposed site area at San Carlos Beach Park
NEW!
A
virtual image
of what the final Memorial will look like at San Carlos Beach Park.
Historic Photos:
Eddie Bushnell
and Andy Skov off Cannery Row
Eddie Bushnell
on ladder of the dive-boat "Eagle"
* * *
The project was received enthusiatically by the
City of Monterey Culural Arts Commission in its June 25th, 2007 meeting
and by the Monterey City Council upon its announcement.
The project received unanimous approval by the
City of Monterey Parks & Recreation Commission.
The Cannery Row Foundation wishes to thank those who donated
to this historic recognition of the Cannery Divers of Cannery Row.
If you'd like to help the Cannery Row Foundation, e-mail us at
info@canneryrow.org
Home
07/05/09